Zero Waste Packaging Solutions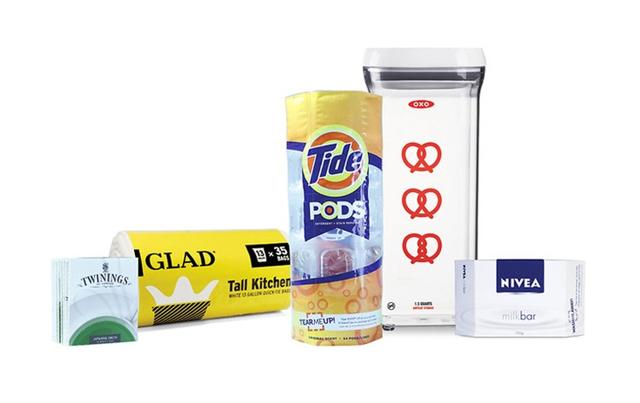 In today's environmentally aware marketplace, finding new ways to cut back on packaging is in both consumer and producer interest. Earning his master's in packaging at Pratt Institute, NY, last year, graduate student Aaron Mickelson came up with a few very nifty, zero-waste ideas.
Thanks to co-design for keeping us up to date with innovative solutions.
Tea Bags - individually wax-sealed bags are perforated together accordion style, removing the need for another outer package.
Nivea Soap - packaged in a box made out of septic-tank-friendly, water-soluble paper that dissolves in the shower before first use.
Dishwashing Pods - Tide Pods are single-use detergent pouches typically sold inside a branded bag or box. Instead, have them branded with soap-soluble ink and joined together in a perforated sheet, the user tears them off one at a time, ultimately leaving no exterior packaging. Let the dishwasher deal with the rest.
OXO Brand Containers - like most Tupperware, this American-brand of containers are always branded with superfluous labelling. The solution? Do away with the paper insert by printing brand and product information directly on the plastic itself in dissolving, soap-soluble ink.
Plastic Garbage Bags - bags are pulled out from the centre, one at a time, until only the printed exterior bag remains - use this last one as well!
"Right from the start, I knew I wanted to show that a disappeared package didn't need to mean a completely new paradigm for the consumer or a great sacrifice for the brand. Disappeared packages retain all identity and marketing opportunities of traditional packaging solutions. I think consumers want to be green, but they're not ready to make profound changes to their normal routines to do it."
- Aaron Mickelson