enkel: the New Co-operative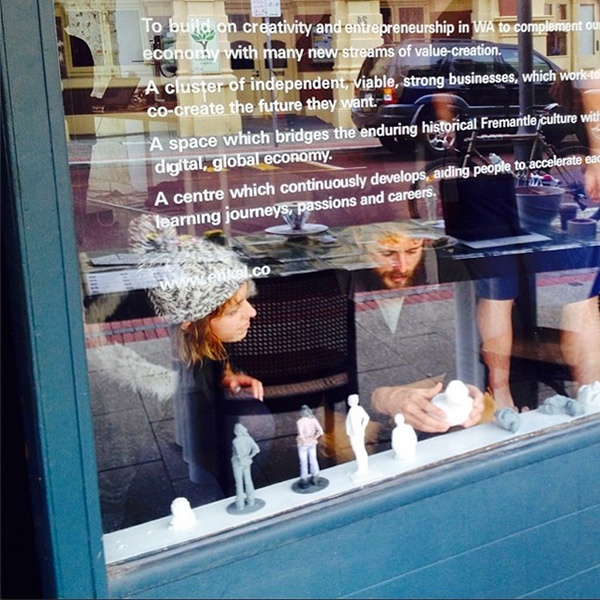 Freemantle-based enkel are part of a new wave of co-operatives that permit creative practices to blossom and move, to adapt and build into a global context of production and collaboration. Headjam's Benjamin Matthews discusses with co-founder Adam Jorlen the history to, successes of and difficulties faced by enkel thus far.
"I see us building new societal infrastructures/networks, which are lighter and more resilient"
Benjamin: Could you describe the purpose of enkel for us?
Adam: The purpose of enkel is to explore new ways of doing things (making, learning, eating & drinking and working) as we believe that the unsustainable ways we do things now are just that; unsustainable = will not last.
Sometimes I see us building new societal infrastructures / networks, which are lighter and more resilient than the systems in place today. Sometimes I just think we're nuts.
Benjamin: How is enkel structured, and why?
Adam: We have just sent in the paperwork to the Department of Commerce to register enkel as a co-operative. We aim to create a network of independent changemakers, all connected to the enkel collective, but running their own separate entities, whether it's as individuals or businesses. There are issues in decision making with this organisational structure, but that's something we need to work through, as a co-op is the most appropriate form to how we operate.
Benjamin: You are one of the founders of enkel, who else was involved and how did you establish those relationships, and/or where did the impetus for enkel's creation come from?
Adam: I have worked in the change making / social entrepreneurship / futures field for 3-4 years now, as advisor, organiser, provocateur etc., in start-up clusters in Melbourne, Stockholm and online.
My partner Jen is the design lead in this project - something I lack myself. We moved back to Perth from overseas and didn't find anything we wanted to partake in. Hence created something of our own. Something I always aim to do in new places :)
"Today many of us can work with anyone, anywhere at any time"
Benjamin: Can you outline some of your core activities (e.g. Guerilla Office, Temporary Makerspace, enkel Ideas)?
Adam: Guerilla Office started in Sweden last year, and is an office for portable office workers, who like to change environment and spend their work days with different people. Today many of us can work with anyone, anywhere at any time, so initiatives like these are popping up especially among digital workers. I was involved in Guerilla Office in Sweden and wanted to test it here.
The temporary maker space was a 2-day pop-up maker space we held n an old pizza shop in the centre of Fremantle. We invited local businesses, entrepreneurs and maker community to come showcase their ideas and products over the weekend, so we had 100s of people coming down (or randomly passing by) to learn more about small-scale electronics, robotics, 3D printing etc. We also designed the space and built all furniture in the collective, which was an excellent community building exercise.
enkel Ideas is a new accelerator for the people at the core of the collective. We're 13 people meeting every Wednesday night to discuss our ideas, challenges and needs. This is an experiment in collaborative entrepreneurship, but will lead to a more formalized education for changemakers next year. 

All these events are prototypes for what will happen in our permanent space in the future. So prototypes of new ways of working, making and learning.
"We have some amazing people in and around the collective"
Benjamin: Could you describe your role at Enkel, and what you typically do in that role?
Adam: I do too many things right now (!) but think it's important to start broad and then narrow down. My main job is to build the enkel community (running events, social media etc), but I also try to build a light structure around the collective. I also work quite a bit with finding a permanent space for enkel, which is quite depressing, as there are many empty spaces here, but they are too expensive. I'm trying to get away from the normal / old-school ways of viewing space, but no success yet :(
Benjamin: Would you mind describing some examples of successful events and positive outcomes thus far?
Adam: I'm happy with the community building so far. We have some amazing people in and around the collective. For the last couple of Meetups we had around 50 people each time with very varied backgrounds, skills and ideas. That is the key I think for success initially. The maker space was also a success.
"Sometimes I fear that my crazy ideas won't work, but then I remember that the current ways we do things on our planet don't work either"
Benjamin: Alternatively, are there any examples of failed events, or negative outcomes resulting from enkel's endeavours?
Adam: Sure. We haven't been very good with connecting with the wider ecosystem, business community and especially finding a progressive sponsor. Western Australia is currently changing a lot - transferring from minerals-based economy to many other forms of revenue, and I hope we'll manage to tap in to the new-paradigm networks soon. We've also failed to find a permanent space for enkel - something we aimed to do by August. (see above)
Benjamin: What have been some of the more challenging experiences for you in your role at enkel?
Adam: As always; to keep my inner voice asking "what the hell am I doing?" in check :) I'm slowly getting over that though. I just have to look in any newspaper to get motivated and move ahead. Last month I tweeted this, which explains "Sometimes I fear that my crazy ideas won't work, but then I remember that the current ways we do things on our planet don't work either."
Benjamin: What separates enkel and its participants from other contexts of cultural production?
Adam: I guess that we are truly multi-disciplinary. We have teachers, artists, designers, builders, politicians, chefs, futurists, lawyers, students so I guess we produce quite broad culture. The collaborative approach will be interesting to see how it works too...
------
Cheers to Adam from enkel for sharing his insights about the challenges and successes associated with setting up a co-operative in the current economic and cultural climate. We recommend you...
Check out the enkel website here, and Adam's other projects, Superherospaces here, and his blog here.
Check out what enkel are up to on social platforms like...
Facebook: https://www.facebook.com/enkelcollective
Twitter: @enkelcollective
Instagram: /enkelcollective
#creativecollectives #enkel #fremantle #communitycampaigns #adamjorlen