Typo Tuesday: Smile for French Origami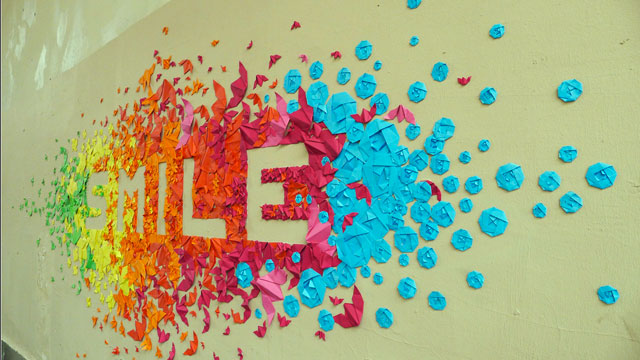 Picture this: you're strolling down a random street in Paris (or any big city), and suddenly you see the word 'smile' created out of hundreds of origami folds on bright colourful paper.
The work, the colours and the unexpectedness of this could bring even the worst scrooges to smile!
Mademoiselle Maurice is the brilliance behind this and other public typographical works, and she has some real drive behind these installations. The effort in creating the origami, the planning for the colours, and the knowledge that the paper won't last forever might seem like deterrents for some artist, but for Mademoiselle Maurice, it's all about the moment. If you visit her website, you'll see the incredible range of creations. We've included art from her Smile installation and also from her Take One Give One.
Sometimes she uses typography, sometimes she uses string, but almost all of her work is bright and smile inducing. Her work has temporarily brightened cities in countries ranging from Europe to Asia. This story reveals that Mademoiselle Maurice got the help of local school children to create the origami which adds an extra cute factor. We just want to know when she's coming to Australia?