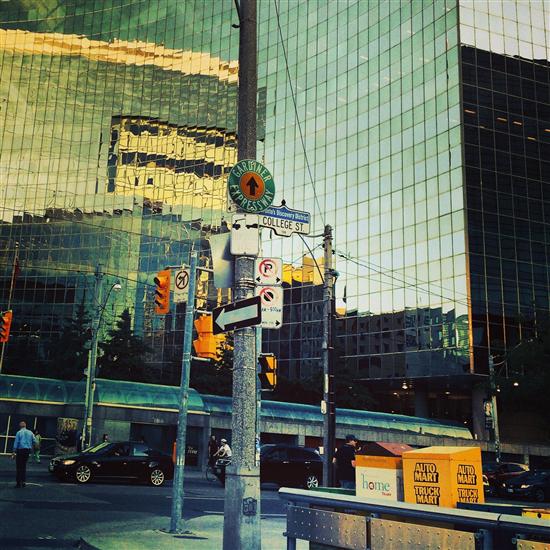 At Headjam we try to build relationships on a global scale, with the goal of knowledge and skills exchange that puts us in touch with the most cutting edge digital creative on the planet. Our Account Planner Dr Benjamin Matthews recently returned from a research expedition Canada. This is his story.
Headjam sent me to Canada over the past few weeks to speak at a conference and visit some amazing creative agencies in Toronto.
The trip kicked off in a beautiful port city just north of the US border and Seattle, - Victoria, in British Columbia - where I talked about how digital imaging is changing the shape of our cities (and in particular, Beijing) at the Generative Anthropology Summer Conference.
Then I flew across to Toronto, the most cosmopolitan city in the world and a place that's going off its head growth wise. You don't have to look far to see the evidence: there are more cranes here than in Dubai.
Heaps of cutting edge digital media gets made in Toronto based agencies, and I made appointments with a few of our favourites.
First I met up with Operations Manager Sebastian Blanco at Jumbleberry, to learn more about their innovative digital marketing business. They specialise in health and Cost Per Action (CPA), an online advertising model where the advertiser pays for impressions, clicks, or forms submitted like registrations or sales.
These guys have gone from 3 to 30 employees in 4 years and are now set up in a chic converted warehouse near the city, so its pretty clear they are right at the leading edge of the most recent trends in digital marketing.
Next I caught up with Michael Dobell, Director of Operations at Jam3, one of the world's leading digital production and design agencies who work across advertising and entertainment industries. Check out their creative on the Cannes Gold Lion winning interactive documentary, Bear71.
It is narrated by a light grizzly bear as she moves through Banff National Park. Users navigate an interactive 3d representation of an area of National Park and follow the lives of animals via movement-triggered photography, selecting from 15 cameras as the narration unfolds over a twenty-minute period.
We follow Bear71 from the time she is tagged until her premature death. Over one million photographs are employed to build a visual narrative that "blurs the line between the wired world and the wild one", inviting users to open their camera and be themselves filmed as they navigate the landscape, challenging them to examine the impact of technology on the natural world.
Then I dropped in to Playground Inc. and met up with Dave Senior, their Chief Growth Officer. Dave is an impressive analyst, and as his journal entries demonstrate this is a small company with big insights. Their creative is not too shabby either, with recent projects including the Grammys website.
Last but not least, I dropped in to The Drake at the suggestion of Chris Joannou from The Edwards bar in our hometown of Newcastle.
It's a hotel that has superb environmental design and ongoing exhibition of local artists work. It's bohemian and immersive, replete with leather booths, chic alfresco café, roof top restaurant, accomm and basement club along with a small gallery/shop that sells local art and merch.
Like the Edwards, The Drake understand the importance of community, and maintains a strong relationship with the local arts scene, hosting events, and fostering local talent.
#creativeagency #digitalagency #marketing #headjamcreative #thedrakehotel #theedwardsbar #playgroundinc #jam3 #toronto #gasc2014 #grammys #Bear71 #ericgans #jumbleberry