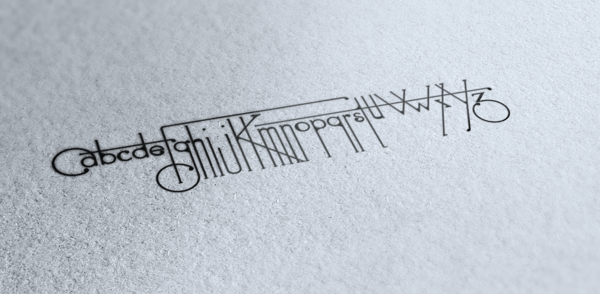 This week on Typo Tuesday we feature Futuracha, an Evge-award winning display font and the typography of Athens based creative agency, holy.
Futuracha takes Futura and splices it with cucaracha - it's Spanish for cockroach - radically destabilising the ideal weight of PF Futura Book with the addition of serifs derived from Claude Garamond typography.
The effect of this hybridity is remarkable as the typography takes on the indulgent look and feel of art deco but maintains some stability via the assured Futura axes.
With over 50,000 downloads in its first year of publication, and close to ONE MILLION in total (807,150 so far) the bold crew at holy must be pretty stoked. Their typography is part of a very interesting project, whose manifesto is worth publishing in full, they're aggressive humanists, before capitalists:
"Individuals forming a community that celebrates creation, while being devoted to perfection. Imagineers from around the world in search of authentic brands and statements. Arrogants against past or future gods, vigils constantly ready to pull the trigger. Fearless searchers of the limits and the question of whether they truly exist. Curious explorers of design in search of transparency and honesty in every proposal, for every inch of the world. There are no instructions. There are no manuals.
If humans are shaped by their environment, then this environment has to be made human. 
Marx and Engels, 'The Holy Family' (1844)"
The reference to Marx and Engels gives us a hint as to why Futuracha is typography you can download for free here. You can check out their (fishy) site here, their Behance here, and Twitter here.
#typography #holy #futuracha #typotuesday #headjamcreative #newcastlecreative