Social Media: Get a Hashtag with Tagboard!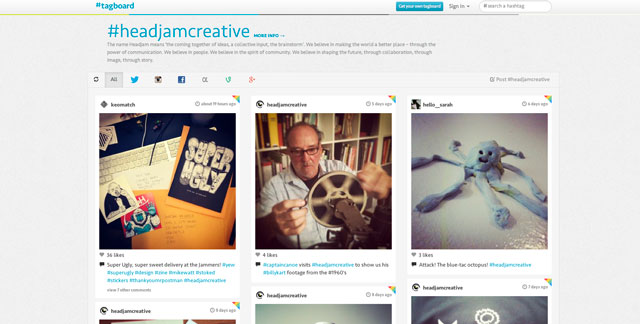 Tagboard. It's a way like no other to track social media content across all the major social platforms, and it could work phenomenally for businesses that would like to engage with their customers and audience. Unlike Twitter, Instagram and Facebook which only show hashtags from within their site, Tagboard pulls all the user generated content associated with hashtags, and then displays them in a uniform, elegant and simple-to-engage-with design.
The hashtag (#) is a button on the keyboard, which is being used by users to list specific phrases within a social media platform (e.g.Twitter, Instagram, Facebook, Vine). Recently brands, companies and other entities have picked up on this and are now promoting #hashtags, giving end users a way to engage with their favourite products, services and even TV shows!
Until Tagboard came along, there was no way to search specific topics or phrases across all the social media platforms and allow end users to engage, discover and interact with the content.
One way to think about a Hashtag is to compare it to the way domain names were viewed several years ago. A #hashtag is a call to action, a way for brands to engage with their audience, a way for end users to discover new and engaging content. One could even go so far as to say #hashtags are the new URL.
Make sure you get one while you can! A registered hashtag doesn't cost anything and is easy to reserve at www.tagboard.com (as long as someone hasn't taken yours already). For those trying to track customer interaction on all the different social media platforms, integrating a specific or personal hashtag is a fantastic way to get feedback.
This start-up company is based in Redmond, Washington State (the home of Microsoft, Google, Facebook, Amazon, etc.). They've been gathering more and more attention since their 2011 public unveiling. Like Headjam, they are a small team (with eight pictured here), and their service has piqued international interest. Businesses everywhere are registering their hashtag. Conferences and events are quickly incorporating an event-specific Hashtag to engage with their audience.
Since Headjam staff returned from the design conference Semi Permanent in Sydney, the hashtag has really been key in our conversations. During the conference, we were entertained and slightly baffled as the conference hashtag (#spsyd2013) was sourced directly onto the big screen. Vine, Instagram, Facebook, Twitter and Google Plus posts all came together seamlessly. We're now all coming up with different ways to use our new registered hashtag, #headjamcreative, which you can see here at tagboard.com/headjamcreative.
Tagboard is going to change the way we source content, and as a team we are excited to use #hashtags across all our conversation and collateral. Our recommendation for everyone is if you haven't explored Tagboard already, you have to visit the site and see what people all over the world are hashtagging.
As you might expect, some hashtags are more used than others. Some have already been registered like #Jesus, #God, and #YOLO, but #Buddha, #awesome and #firstworldproblems are still available.