An Interview with Melbourne Illustrator Zahra Zainal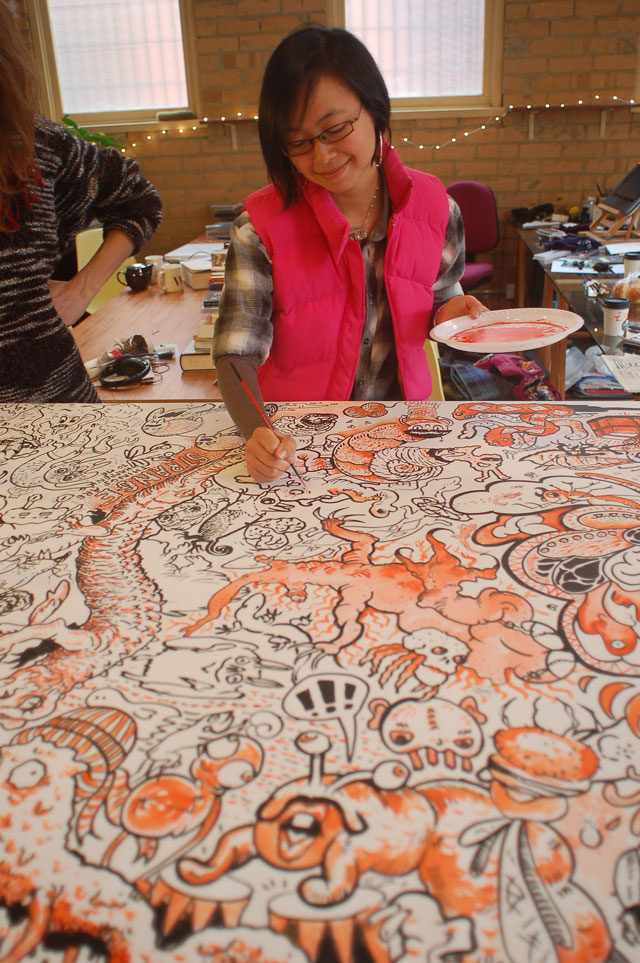 Zahra Zainal does not buy into the talk of of 'struggling artists'. The 28-year-old illustrator and visual artist has been successfully creating art to support herself since she graduated from uni a few years ago.
"There is value to what I do and what I have to express," Zahra said. "While some artists do perpetuate the starving artist myth, I don't see anything bad with putting a price on what I do."
Zahra was born in London, grew up in Malaysia, and she arrived in Melbourne in 2006. She got her A levels in maths and economics, as her parents wanted her to have a few different options in her career. But once she got to uni, she dove head first into the art world, getting her degree in animation from RMIT (Royal Melbourne Institute of Technology).
After she graduated, Zahra had strong intuition and drive that kept her working in the artistic realm. Her parents are incredibly supportive and proud of her career choice.
"You make your own path," Zahra said. "If you feel or think about something long enough, you make it materialise. You get hungry; you have to see what's next."
She is a visual artist when she makes art for creations' sake and she's an illustrator when she's providing a solution to an individual or business. She likes to flex different muscles.
Her first job out of uni was teaching Photoshop, Illustrator, and InDesign at TAFE, which she really loved. She also spent some time working for a greeting card company. She then began freelancing, working public events, holding workshops, painting people's pictures and selling her prints.
Working as an artist in Melbourne, Zahra finds most of the people she works with now were the people she met through her uni course (including friend and freelancer of Headjam, Isaac Williams). She also met Headjam Principals Luke and Sarah in Melbourne. She met Sarah in an artist warehouse and Luke at his studio. She remembers she and Sarah were enrolled in "really cheap life drawing classes."
For Zahra, the schedule in the life of an illustrator changes daily. Some days Zahra will be at the studio of the company she's working for, and some days she works from her studio in Richmond. She shares her studio space with photographers, illustrators, videographers and fine artists. She typically maintains a 9-5ish schedule, and along with being creative, she also writes and responds to emails. She starts every morning by writing down her tasks for the day. Working for other companies has drilled in the importance of detail.
She uses social media including her Instagram account to get work, and she has her own website and Tumblr account. When her work flow slows, she sends out her CV and gets creative.
"I've thought about getting a job in a non-creative field," Zahra said, "but it wouldn't contribute. I only want to explore creative work right now."
And explore creative work she does. When she's not getting paid to create, she's doing it sheerly for the love.
"I think everyone should make art, it's really not that hard," she said. "If you approach work with a pure heart and with clear intent you will always find a way."
Her most recent endeavour, Joining Forces, is one she's incredibly proud of. In March, Zahra and a group of five other unique individuals formed a collective to make art together. They recently put on an exhibition for the Top Shelf Gallery in Melbourne, and, excitingly, a piece of art work they've created has been selected out of over 100 applicants to cover a entire tram in Melbourne that runs through the centre of the CBD.
The project is a collaboration of local organisations that asked the community to submit art to cover Melbourne's famous tram network. Yarra Trams, Arts Victoria and Melbourne Festival will be bringing local artists' work to the streets.
The tram art Joining Forces created includes all kinds of fantastical creatures. This blog post includes images of the final project, and you can watch and learn more about this by visiting the links at the end of this post.
When asked about the future, Zahra has ideas to drive her. She'd love to be involved with production on a larger scale, putting ideas on walls, exploring concepts. She wants to get involved with festivals, travel the world, giving talks and encouraging people to make art.
"My practice is not just about creating," she said. "It's mainly about ideas."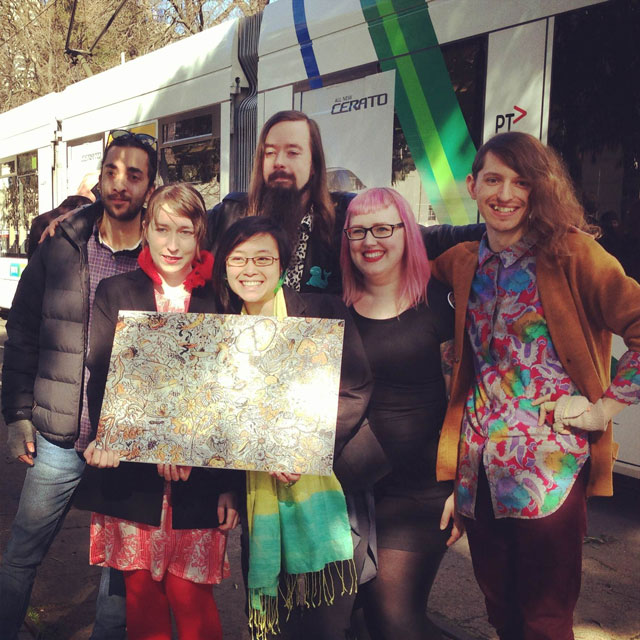 Zahra and her collective Joining Forces.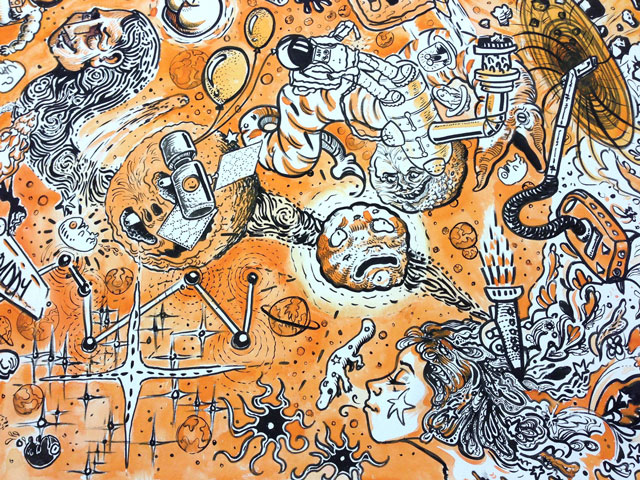 Art by Joining Forces selected to cover a tram in the CBD of Melbourne.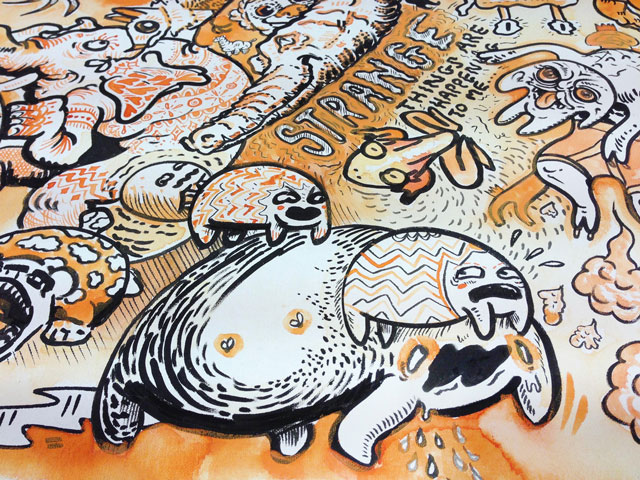 Art by Joining Forces selected to cover a tram in the CBD of Melbourne.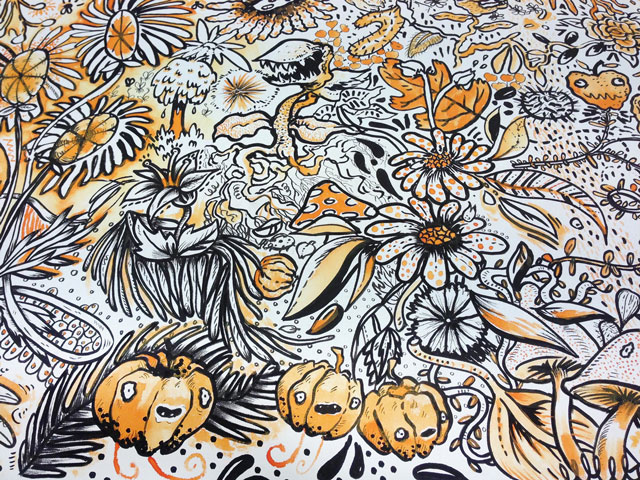 Art by Joining Forces selected to cover a tram in the CBD of Melbourne.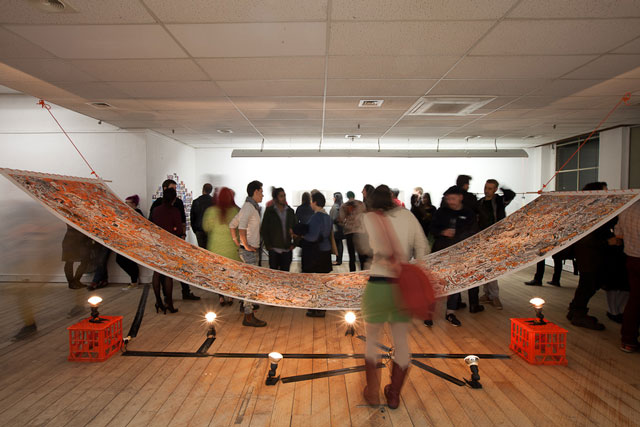 The final piece of the art by Joining Forces selected to cover a tram in the CBD of Melbourne.
Learn more about Joining Force's latest initiative by visiting these links.
http://www.abc.net.au/arts/stories/s3815371.htm
http://www.theage.com.au/entertainment/art-and-design/the-tradition-of-the-beloved-art-tram-rides-the-rails-again-20130731-2qzll.html
http://www.yarratrams.com.au/media-centre/news/articles/2013/art-trams-return-for-melbourne-festival