An Interview with Headjam's latest Nora Mironov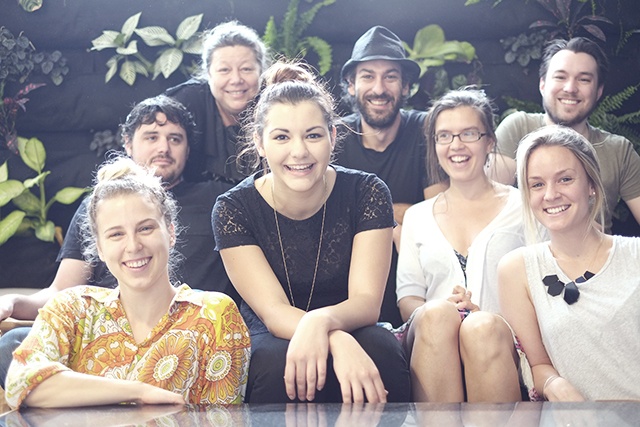 How could 21-year-old West Australian Nora Mironov have known that when she embarked on her month long internship with Headjam, she wouldn't need her return ticket home?
"Since I've returned from my travels in the States, my plan had always been to try to make it to the East Coast," Nora said.
She was planning to return to her hometown of Perth to work as a designer for The Globe, but when her internship ended, Headjam quickly intercepted, offering her a contract.
While her previous employer was very excited to have her return, they are "over the moon" as Nora described for her to have this opportunity on the East Coast.
"I'm a young designer, I still don't know what field I want to work in," Nora said of her uncertain but exciting future. "I still want to travel and find my field."
Nora graduated from Curtin University in 2012 with a degree in creative advertising and graphic design. When she first started Uni she wanted to do journalism and photojournalism, and then she took a graphics class and quickly changed her mind.
"With time I realised with graphics, you work within a lot of other fields," Nora said of her choice to move in the visual direction. "It wasn't like I'd stopped working in the other areas, I just really liked graphics."
Nora's skills caught Headjam's eye as soon as she began her internship.
"When Nora began her internship, we could tell she would be a real asset to the Headjam's Design Team," said Sarah Cook, principal and senior designer. "She understands our direction and aesthetic, and she's got a great eye for detail.
Nora has a family friend named Lucas and he knows Luke and Sarah very well. Lucas told her about Headjam when she was still at Uni which inspired her to check out our website.
"Lucas showed me Luke's book, and I was inspired by that work, and I was also inspired by the work I saw on the Headjam Portfolio," Nora said.
She loved all the layout work she saw including Anna Rhode's Utopia Dystopia project.
As Nora had previously experienced working for the Globe, and she compared her work between both small studios with young creatives.
"Both studios have a similar vibe, both play music, we have a communal iPod," Nora said. "Some differences include Headjam is more artistic and collaborative in their approach."
She attributes the Globe to molding and mentoring her to become the designer she is now. Their support has undoubtedly shaped her opportunity now.
"At the Globe, you come to the table with your ideas, rather than collaborating from the start like Headjam" Nora said. "You are more of an individual, and then you come together and collaborate. Both processes work, it's just a different approach."
She loves the way that Headjam combines graphic designers, animators, illustrators and photographers, and the way that everyone comes together without having to outsource much development.
She also is so impressed that Luke and Sarah are doing what they are doing at such a young age.
"I try to picture myself at their age doing what they're doing and I can't even imagine it," Nora said.
When Nora thinks about the future she feels limitless. But she loves her experience in Newcastle thus far, which includes attending local poetry slams, a snowboarding trip and many rounds of trivia at the local pub The Cricketers. She also dove into the harbour! She spends most of her time in Newcastle with her Novocastrian friends she first met while traveling abroad. She's gone on long bicycle rides and cafe hopped on the weekends. Her favourite cafe so far in One Penny Black. All this and she shows up for work Monday through Friday.
She is having a great time exploring this part of the continent, and she also has a European passport which she's eager to put to use.
From the age of six, she's been travelling with parents who are Bulgarian. (Nora speaks fluent Bulgarian as well). While she was still in high school, she also did an exchange in for a month where she lived in Italy.
"Somehow it's helped me," Nora said reflecting on all the travel she's done in her few years. "I'm still figuring out how it's helped. I'm kind of living in the now."
Headjam is happy to be along for at least part of Nora's ride, and we can't wait to see where she ends up. We hope she stays in Newcastle for a while!
Check out some of Nora's favorite blogs and sites. The links below to blow your mind!