Headjam's 20 year journey: Interview with the Principals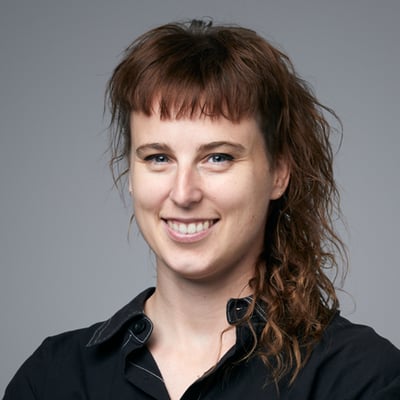 Sarah Cook
Headjam was founded 20 years ago by Creative Director Nicola Xavier. When Sarah Cook and Luke Kellett took over 12 years ago, they were a pair of fresh-faced 22-year-olds, pioneering the use of digital media, applying their love of design, and experimenting with new ways of running an agency.

Jump to 2023 and, together with Mike Preston, the three are celebrating Headjam's 20th anniversary as a multi-disciplinary, independently-owned creative studio operating on Awabakal land, Newcastle.

Over the years, Headjam has flourished, despite two financial crises, a pandemic and the digital revolution. The three owners put their success down to two things: their resolute commitment to the sectors they service and their focus on creative impact over profits.

During this time, they've focused on working with the Community, Education, Health and Arts sectors, contributing to the local economy through projects with organisations like Awabakal medical service provider, ACON and Greenpeace, to name a few.

Headjam's uniqueness is in its success at creating world-class social impact work – from a regional city in Australia.

Asked to describe Headjam, Sarah Cook, Chief Creative Officer, said: "We are an eclectic bunch of creatives driven by the idea that our work can have a positive impact."

Over the years Headjam has been recognised with numerous national and international accolades and awards. Two recent standouts were winning Good Design Awards in the categories of Social Impact and Digital Design Web Design and Development this year.

Headjam's focus on positive social impact over profits is shared by Headjam's Executive Creative Director, Mike Preston, whose career in creative agencies spans over 50 years. Preston said: "A principle is only a principle if it costs you money."

The Newcastle-based agency has no plans to go anywhere. Luke Kellett, Headjam's Chief Operating Officer, firmly believes that "the long-held perception that a creative agency in a regional centre can't reach a national or international standard is just not true. You can do great work from Newcastle, and that's what we're doing."

Any media inquiries please click here.

---

In this video, Headjam's Principals past and present talk about the 20 years. Sarah Cook – Principal & Chief Creative Officer
Mike Preston – Principal & Executive Creative Director 

Luke Kellett – Principal & Chief Operating Officer 

Nicola Xavier – Founder & Creative Director


---
Video transcript
Mike: Ready?

Sarah: I'll say something real.

Luke: Okay.

Nicola: Why did I start Headjam?
I started Headjam because I love design, the power of design. It's everything. I believe that any mark, color proportion line piece of digital film has so much power. So Headjam's vision is to keep that alive and the standard really high.
I'm Nicola Xavier Cupid and I founded Headjam 20 years ago.

Sarah: When Luke and I bought into the business, we were pretty young. We were about 22. We'd just moved back from Melbourne. We didn't know what we were saying, yes or no to. Running a business is a lot of hard work, but now what, 12 years later, I can't really imagine not doing it.
My name's Sarah Cook. I am the Chief Creative Officer at Headjam.

Luke: When I started as a principal at Headjam, I used the experience that I had through photographic and film production in the UK, and started to round out the agency's services across 3D animation, video production, development, photography, and really it was about taking what was traditionally a graphic design studio and bringing it into a multidisciplinary service agency.
I'm Luke Kellett and I'm the Chief Operating Officer at Headjam.

Mike: I love ideas. I love thinking of ideas and collaborating with people to fight an idea that is great and fits that client perfectly. The one you could never do for anybody else, it just fits them like a tailored suit.
I'm Mike Preston, an executive creative director of Headjam. As you can tell by my white hair. I've been in the business over 50 years.

Sarah: We work in four sectors, which is health, education, community, and arts. That came out of what we were already doing. So a few years into having run the business along with Nicola, we kind of sat down and tried to analyze what it was that we were already doing.
So what we realised set us apart was that we were focusing, even unintentionally at that time, on these specific sectors and the intuitive nature of that meant that it just came from a place of heart.

Mike: By staying in those areas, we work in areas that we want to do good in and it means that we choose not to work in other areas. A principle isn't a principle until it costs you money.

Sarah: There's something really satisfying about getting into a business and finding all that messiness and complexity and then just picking out some very powerful parts of that business and being able to communicate that to the world.

Mike: We do these amazing sort of workshops with sort of co-design workshops with our clients when we start a new project and it's that interest in people and what they're doing and why they're doing it, that's meant that I've never lost a passion for the business because each job we do is different.
You become a semi expert in all sorts of weird and wonderful things. You find out so much. It's great when you play trivia because you know a lot, you can answer bizarre questions in all sorts of subjects.

Luke: I think the stigma of having an agency in a regional center is that your work is regionally focused and can't be of a national or global standard.
And we've really, over the years, tried to challenge that.

Nicola: It is just unbelievable what people are doing in Newcastle. It's a town that's so exciting and invigorating and progressive on all fronts.

Luke: We've had some really wonderful success where some of our campaigns have gone international across different countries, which is really awesome, that great creativity can start in Newcastle, and can be distributed around the world.

Mike: I've always known that you can do great work anywhere. It's obviously easier if you're doing it with great people around you.

Nicola: There couldn't be a better team than Luke, Sarah and Mike. They're very passionate about what they do and I'm so proud of where Headjam is today, because it started as a small design agency, and now it's this really top-notch creative agency.

Mike: I always think Headjam's been on the right path. I suppose it's just grown up, through Luke and Sarah growing up and since we've been together, I've been able to bring some my experience to those two, but I think the values are still the same.

Sarah: One thing that hasn't changed is this really ridiculous inner drive to do good, and that's what drew me to the business in the first place, and that's what drives our decisions every day.

Mike: The great thing about having your own company is you can set your own goals and set your own boundaries.

Luke: And you have to really keep yourself focused on a true North to what you're doing and why you're doing it. So for us, it's working in the social justice space, it's producing great creative work, and it's really trying to change perceptions of society for our clients to better humanity a little piece at a time.



If you have a project in mind or would like to work with us, send us a message.