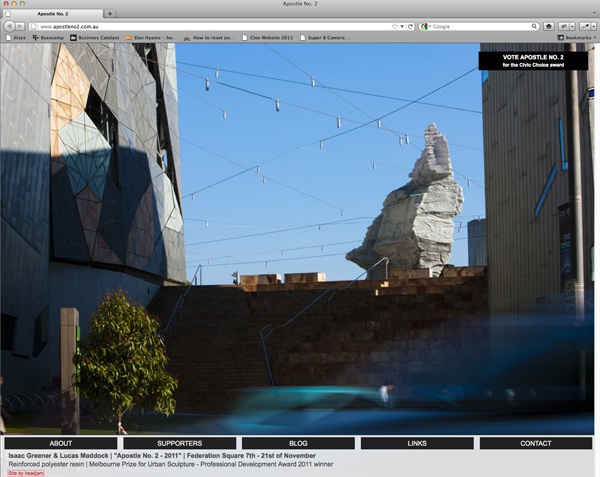 Long time friend of ours Lucas Maddock, a multi disciplinary artist based in Melbourne, contacted us earlier this month about a project he was working on. The project has been listed as a finalist in the Melbourne prize for urban sculpture. Along with fellow artist Isaac Greener, they are recreating one of the legendary 12 Apostles that collapsed into the Southern Ocean off the Western Coast of Victoria and placing it in the centre of Melbourne in its new sculptural form. Lucas engaged us to create a utilitarian website that would host all the information for the exhibition and pay homage to the supporters that have helped make it happen.
The newly built website can be found here: apostleno2.com.au
Here's what its all about - On the 3rd of July 2005 the 45mtr high limestone monolith and iconic member of the so-called 12 Apostles collapsed into the Southern Ocean off the Western Coast of Victoria.
The towering Apostle was one of the largest of its kind in the world and became the poster-child of a massive tourist phenomenon. The collapse of this geological fascinator not only left behind a gaping hole in one of Australia's most famous and familiar tourist vistas, it also brought to light the human tendency to iconise and immortalise an impermanent and forever changing environment.
A play on Australia's obsession with the 'BIG' icon, Apostle No.2 is a parody of this phenomenon while also reflecting a far more poignant story. Since the fall of this Apostle, the world has witnessed numerous natural disasters as well as the collapse of many social, cultural, political and financial institutions. In the context of our ever-changing global environment Apostle No.2, a ghostly shell of what was, is a poignant and localised symbol of change.
As Melbourne rapidly re-develops, Apostle No.2 functions as a reminder of the universal transience of our environment, both natural and built. Apostle No.2 is a monument to the 'shock of change' and the human psyche's attempt to immortalise the familiar.